Iris 360, created by the NCTech, is crowned as the first-ever spherical view camera to be approved and used by Google for their "Street View Trusted" program. Since the brand has been working on the 360-degree reality imaging system since 2010, this 2015-model camera is specifically said to be designed for the field experts. There's no denying that the Iris 360 camera is a professional photographer's dream come true due to its seamless photo stitching and speed. However, it's also true that there are more than a few cons of this product that you can't ignore before investing in a camera that's costing you hundreds of dollars. These downsides make it essential to go through a detailed Iris 360 camera review before buying this product.
Not to mention, you wouldn't find many reviews on this product despite its collaboration with Google, which makes it even more challenging to make a final decision. However, if that's the case with you, we've you covered in this article. You can read on for a detailed product overview, the product's pros and cons, and finally, the features worth mentioning to make the final call.
Our Review of the Iris 360 Camera
If there's one thing we can safely conclude about NCTech's Iris 360 camera, it's that the product's spherical camera captures images at the highest shutter speed. To put things into further context, you can take reference from the following data: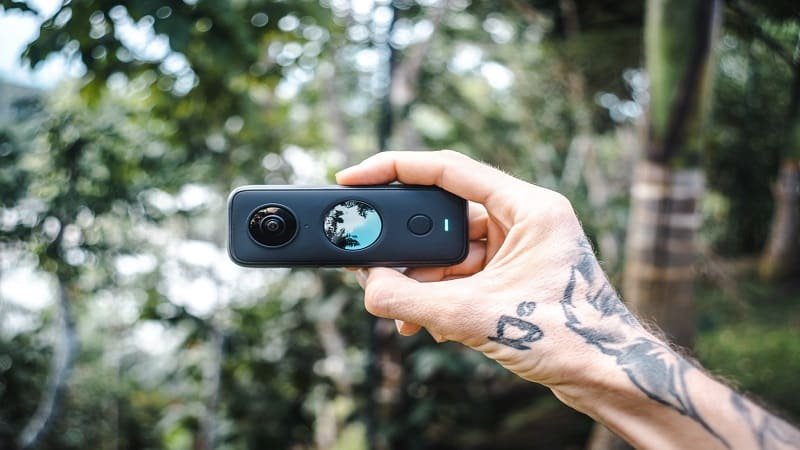 The camera takes one exposure within ten seconds and nine exposures within thirty seconds. Moreover, to create the ultimate 360-degree panoramic view, you can stitch the captured images together immediately after taking the shots, or you can make a batch and stitch the images later on. Alternatively, the manufacturers also offer you the option to stitch your images using the Immersive Studio software on any laptop or desktop system. The said software is a complementary feature with the Iris 360 view camera that comes with no added cost. On the contrary, if you prefer using a third-party application, that's also possible. On all accounts, you'll get crisp-sharp photos under well-lit outdoor conditions.
However, while the manufacturers promise that the Iris 360 camera strives to capture stunning images in low-light conditions, its automatic HDR doesn't match the said standards or even the image quality of an iPhone camera at times. This is especially true when you need to zoom in for a picture to take in the details, which can be a deal-breaker for many photographers despite the pros. Nevertheless, it's worth pointing out that NCTech has used the same technology in this camera utilized in the iSTAR camera, which is used for forensic and crime scene analysis.
Next up in our Iris 360 camera review is comparing the product's pros and cons alternatively, so you can get a clear picture regarding what you'll get and what is left to be desired!
Pros
The camera uses four lenses to capture perfectly centralized 360-degree HD images
32-megapixel photo resolution for detailed photography
Can operate under colder temperatures without freezing the frame
Quick shutter speed
Long battery life
Can be charged while in use
Ideal for integration with the Google Trusted Photographers program
Can be integrated with other professional platforms as well
Comes with free-of-cost software for stitching images
Multiple options for stitching panoramic images
Can capture up to 360MB worth of data in one session
Compresses the 360MB data in 10 MB or less for ease of sharing
Due to zero setup time, photographic experience is not required
Cons
Bulky camera size; weighs 800 gram
Not a camera for amateurs due to the hefty price
The camera doesn't shoot 360-degree videos
Doesn't capture a quality image in low-light conditions
Can't output sharp images when zoomed in
Now that you're aware of the pros and limitations of the product, let's move on to discuss a few of its main features in detail.
Camera Quality for Still Photos
Below is a detailed overview of what the Iris 360 camera offers when you set out to capture a still photo. We're listing the qualities in bullet points to make the analysis easier for you since assessing the camera quality is the most important aspect when buying such a product:
Simultaneous capture from all four lenses
4 x 10-megapixel sensors
32-megapixel 360-degree photosphere resolution
Auto-white balance
Single exposure capture (without stitching) for up to 8 seconds
Full HDR capture in RAW format (without stitching) for up to 25 seconds
Full HDR capture (with image stitching) for up to 120 seconds
Fixed focus and f4 aperture
No movable mechanics equipped in the optics assembly
Design
The Iris 360 camera dimensions are officially defined as 120mm x 120mm x 160mm. Moreover, its frame is made of sturdy plastic, weighing 800 grams, which is quite bulky. Nevertheless, most people appreciate the camera's sleek design and modern look despite the weight.
Power and Battery Life
Battery life is one of the primary concerns when you're out and about. With a 12V power adaptor and rechargeable and removable lithium-ion 7.5v 6500mA battery, the Iris 360 view camera supports extended battery life. This allows you to capture hundreds of images for at least 4-hour of consistent use without needing a battery charge.
You can purchase an external pack accessory for convenience when you're on the move. Moreover, the camera can be powered directly from the mains, which allows the battery to charge itself while in use or on standby.
Additional Features
Here are some additional features that you may find attractive in the Iris 360 camera:
A multi-colored status LED light changes color to give visual operation feedback
A speaker to provide audio feedback for the capture status (i.e., timer capture delay alert)
A micro SD card slot for using SDHC Class 10 cards
Remote Wi-Fi connectivity
GPS, tilt and roll, compass
Alternatives to Iris 360 Camera
Seeing that the Iris 360 camera leaves much to the imagination, Nikon KeyMission 360 camera can be your go-to choice at a much lower price. The Nikon camera can capture images and shoot videos while allowing you the option to view, edit, and share them with others thanks to the smartphone compatibility feature.
Our Final Thoughts
After researching and putting together the Iris 360 camera review, we can safely suggest that it can be a good product for photographers looking to participate in the Google Street View campaign for business purposes. However, under a heavy price tag of $1,999, you'd be better off with another spherical camera within a lower price range. Other products, including Nikon KeyMission, might give you a much better quality picture during low-light conditions while also allowing you the option to stream 360-degree videos.