Which is the best 360 camera for VR? Find out why the Vuze VR 360 camera is one of your best options in the market for a quality 360 VR camera.
Many 360 cameras are designed basically for ordinary consumers. They are meant to be controlled by smartphones for user-friendliness. But you cannot really do professional-level editing with smartphones, to be honest.
The Best 360 Camera for Making VR Videos
The Vuze VR does things a little differently. It is a more serious 360 VR camera meant for content creators; the Windows desktop software is evidence of its professional orientation.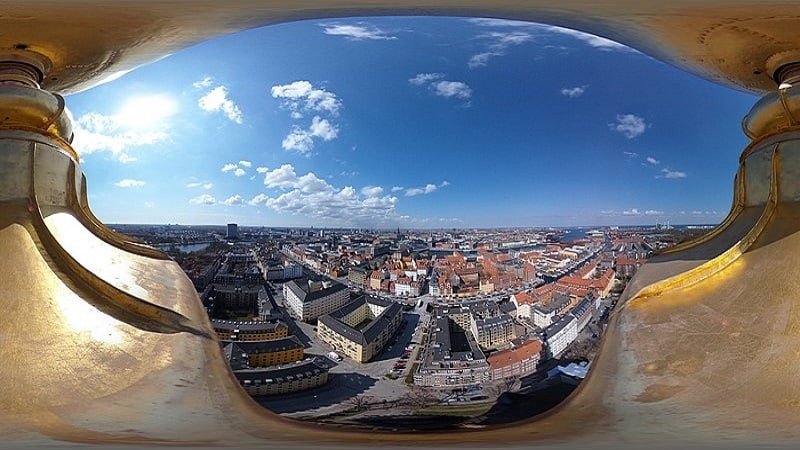 The Vuze VR rocks no less than 8 lenses. This allows for some very decent 2D and 3D image capture. Professional users will be interested in its feature, although they come at a premium.
Design
With its flat shape, the Vuze looks conspicuously different from other 360 cameras. Measuring 4.7 by 4.7 inches at a thickness of 1.2 inches, the Vuze weighs 14.4 ounces. It's bigger and heavier than ordinary consumer models.
Record and Power buttons are placed on top; the bottom has a conventional tripod socket. The camera has 4 sides with 2 lenses on each side for a total of 8 lenses. These lenses work together to capture spherical 3D clips.
The camera is available in the following colors – yellow, red, blue and black.
Although the Vuze may be resistant to light rain and slight dust, it is not waterproof.
One side has a little flap covering the SD card slot, Wi-Fi button, and a micro-USB charging slot. You have to press the Wi-Fi button to activate Wi-Fi signals.
The battery lasts for around one hour. That's the standard for 360 cameras in the market.
If you decide to use the camera for more than one hour, you will need a USB power bank. Remember to hide it to keep it out of the 360 camera view. In this case, you will also need a bigger SD card. At the maximum 120Mbps bit rate, a 64 GB memory card will be full in around an hour.
App
The app available for mobile (both iOS and Android) is bare bones. You have access to basic functions via your smartphone with the app installed like the self-timer, shooting photos, and starting and stopping the recording. You can also view the live feed, although you will have to first activate it in the Settings.
You cannot adjust the exposure. The lenses are small, due to which they have a fixed aperture. But you can modify the ISO or shutter speed for the perfect image.
You can color correct the video using the app. The desktop app gives you basic functions to this end, but you will want specialized editing software for great results as the app has limited editing features.
Mobile video workflow is unavailable. You can't edit your videos on the fly using your phone to quickly post video content to social media. Stitching is done on a Windows computer. Vuze has no software for Mac, so Apple fans are out of luck.
The desktop app gives you basic functions. You can choose a center point for the footage, do basic color correction and trim your videos. There is not much else to talk about. On a midrange desktop with a good graphics card, stitching 5-minute footage takes around 25 minutes.
Using the app is a straightforward affair. You can either transfer video files to your computer hard drive or link the camera itself to your Windows PC. If there are stitching issues, then certain tools are available that could help you overcome these problems.
Video Quality
The Vuze 360 captures 4K clips at 30 frames per second. The frame rate is fixed. So you can't go down to the cinematic 24 fps.
Due to the limitations of 360 videos, the 4K resolution of the Vuze won't look as sharp as conventional 4K videos. That's because the same number of pixels are spread over a much bigger sphere instead of a compact 16:9 frame. So the quality of Vuze videos is closer to 720p in the conventional mode.
Automatic exposure works fine most of the time. But when it doesn't, there are visible differences in lighting.
At close range, you may notice seam lines.
4 internal mics capture audio. The trouble is that you can't use an external mic. Although the internal mics work well on average, the ability to use an external mic would have added to flexibility.
A major plus point of the Vuze VR is that it can live stream 360 videos at full resolution to YouTube, Facebook, and other Real-Time Messaging Protocols. You will have to connect the Vuze to a Windows computer for stitching in real-time for live streaming. Of course, a key drawback of the Vuze VR is that the mobile app cannot stitch 360 video files.
Our Final Thoughts
The Vuze VR action camera differentiates itself in the competitive 360 camera market by extending 3D capture.
If shooting in 3D is not necessary, then you may want to look at other options like the Samsung Gear 360 or the Nikon KeyMission 360 to save cash.
Manual exposure adjustment is a key feature that is not available in the app. Also, the stitching time is substantial.
However, it does have plus points to its credit like 3D capture, ease of use, and live streaming capability.
With these caveats in mind, you can decide whether or not to purchase the Vuze VR camera.