Since 360 cameras are advanced and sophisticated devices, you need a solid app for a smooth user experience. The app allows you to control all features and functions of the camera. You can also do basic editing, due to which you may not need a separate app.
The 3 Best 360 Camera Apps Reviewed
Read the 360 camera app review to know how apps from premium 360 cameras perform.
 Insta360 One X
The Insta360 One X has an exceptionally high 5.7K resolution, 18 MP lens, and robust stabilization but is its app up to par?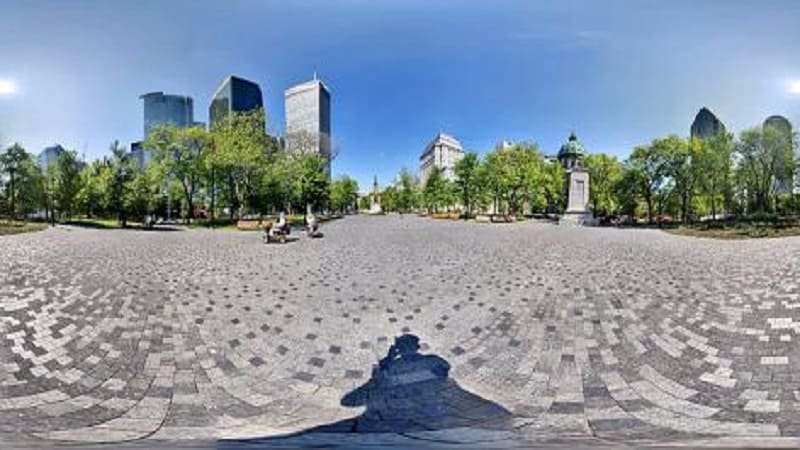 With its mesmerizing suite of video editing and special effects tools, the Insta360 One X gives you a wide assortment of features for stress-free post-processing.
Using the app, you can tinker with image settings such as shutter speed, white balance, exposure, and ISO.
The app converts raw files to HDR format. Although the process takes some time, you do get to see a better dynamic range. For most, that will be very much welcome.
The stabilization is one of a kind. Even after a rough ride, the processed video looks very smooth. You can make further use of editing tools to convert the resultant video to traditional 16:9 and other similar formats.
For cutaway shots, you may manually include Pivot Points. The SmartTrack feature keeps the subject in the middle of the frame. This feature works best when the subject is bigger than other objects around it. There are also easy options for speeding up or slowing down your videos.
If you desire, you may mark the best bits of the clip, and the software will join them via smooth pans. Cropping videos is a cinch, as is snapping still photos from clips. You can go for different viewing formats such as the fish-eye, Little Planet, and so on.
 Pros
Superb image stabilization
Plenty of special effects
User-friendly
 Cons
Lacks advanced editing features
 GoPro Max
The GoPro Max app has the full gamut of features and functions for turning a raw footage file into a polished and professional-looking 360 video. For most files, the process takes about half an hour. Since there are several editing options, you may not need to install a separate editing app.
Highly versatile OverCapture reframing tools also make the job easier, allowing you to simplify the editing workflow.
In-camera video stitching is a big win. This means that a lot of the editing work is done as soon as the raw footage is available. File sizes are also not too big compared to rivals. So if you have an older flagship phone, you can edit your GoPro footage inside it.
The light and the agile app are surprisingly fast on phones. This is impressive when you factor in the limited phone hardware versus the hefty video files. There is no slowing down or lagging at any point during editing with a flagship phone.
In fact, the phone may be a viable platform for video editing and processing since the app can integrate with the gyroscope during editing. This means that if you want to change the perspective, all you have to do is tilt the phone accordingly.
Reframing is another stellar feature of the app. Thus, you can convert your 360 clip to conventional formats, including 9:16, 4:4, 1:1 and 16:9. You may know that projecting circular videos on flat screens introduces distortions in the resultant video. You can reduce such warping by manipulating the video in real-time.
Since reframing requires heavy-duty processing, it is quite remarkable that the app allows your phone to do this onerous task. You can trim videos with ease and snap screenshots by selecting individual frames. You can use this to highlight key moments in the video or to produce image stills.
After you have tinkered with the clip, you can add finishing touches like credit roll, transitions, theme music, title scenes, and so on. You may do all of this without a fuss using the movie maker segment in the app. Formerly, this happened to be a separate app. Before you can edit with the movie maker, you will have to go through reframing to convert your 360 clip to 2D.
 Pros
In-camera horizon leveling
Livestreaming capability
PowerPano
Max TimeWarp
Max HyperSmooth
Auto stitched 360 videos
 Cons
Advanced features can take time to master
 Kandao QooCam
The Kandao QooCam has a fair enough app. Although it is user-friendly, it does need some more features.
The editing option is overall quite decent. There is the SmartTrack option that keeps the subject at the center of the action. Functions are also available for sprinkling in some music, using filters, and trimming videos.
There is a host of some pretty interesting templates that you might like to dabble in, like 'Dolly Zoom,' 'Rabbit Hole,' 'Surround Me,' and 'Orbiting Hyperlapse.' You can make some very fascinating widescreen novelty clips using these templates. Short tutorials are available for demonstrating how each one is done.
Editing super heavyweight 8K footage seems a bit much for phones. Thankfully, the app can tone down your 8K clips to more lithe and svelte 4K clips that your humble phone will be able to handle better. This is done via the 4K Express Edit option. Although it makes things easier, this is not the fastest process.
 Pros
4K Express Edit simplifies workflow
Downscales 8K videos to 4K for phone editing
SmartTrack follows subject automatically
 Cons
The user interface needs improvement
Our Final Thoughts
There appears to be a close tie between the GoPro Max and the Insta360 One X. So you can't go wrong with any of these. As for the Kandao QooCam, the biggest issue with the app is that it is too basic. More features can make it feature-rich and comprehensive.